본문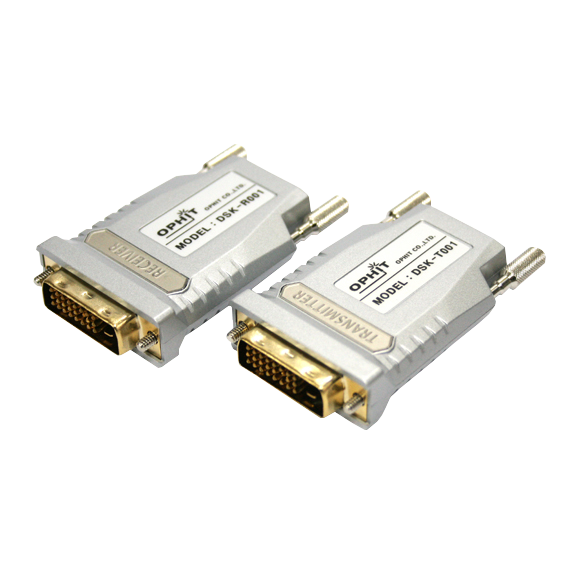 Product description
DVI 1ch 광 전송기
DSK, optical DVI extension module, is designed to let digital flat panel display extend over 1000
meters away from host based on DVI standard by optical transmission technology.
Its small package and pseudo DDC detect function and Self-EDID detect function to use standard SC fiber connector allow users to install and utilize the device conveniently.
Features
▪ Long distance transmission of digital graphic signal corresponding to T.M.D.S
 -over 1000 meter(3,300ft) by multi-mode one fiber.
▪ R, G, B, Clock signal is transmitted separately by one multi-mode optical fiber.
▪ Pseudo-DDC detection function for EDID information
 Self detecting function for EDID information
 Maximum resolution WUXGA
▪ Optional external power supply for Transmitter(Automatic power switch is included.)
• Connector (transmitter) : DVI-D (male), SC connector (female)
• Connector (receiver) : DVI-D (male), SC connector (female)
• Optic fiber : 1ch / Multi-mode
• Pixel Clock : 225MHz (single link)
• Supporting Resolution & Distance :
- WUXGA (1920 x 1200) @ 60Hz / 1000M (3,300ft)
• Power Consumption (transmitter) : 0.8W (max)
• Power Consumption (receiver) : 0.63W (max)
• Power Supply (transmitter) : Optional
• Power Supply (receiver) : 100~240V DC 5V, 2A
• Dimensions : 39 x 14 x 61.4 mm (W x H x D)
• Operating Temperature range : 0°C ~ 50°C
• Storage Temperature range : -20°C ~ 70°C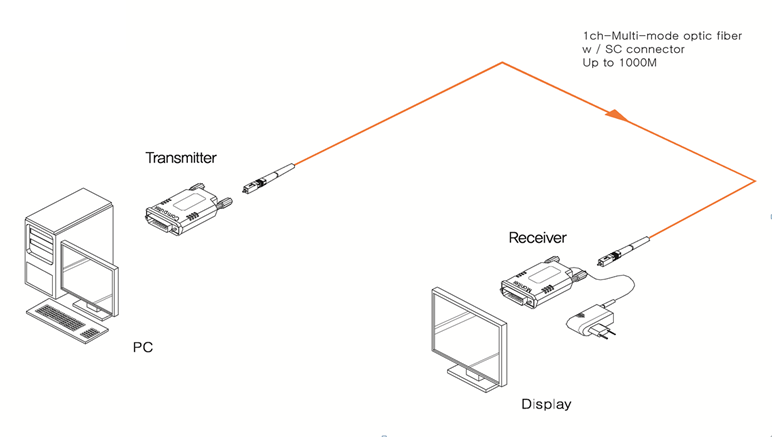 Package
• Transmitter, Receiver
• 1 Power Adapter (for receiver)
• User's manual
Ordering Information
• DSK-M : Transmitter, Receiver and power adapter
• DSK-AXXX : Transmitter, Receiver and power adapter + Multi-mode 1ch optic fiber XXX meters